Yearbook CCHSC: Opportunities and Business Chile – Switzerland
To celebrate its 60 years, Cámara Chileno-Suiza de Comercio has edited a special Yearbook, presenting in 100 pages different perspectives on the Chilean market, its opportunities, trends by sectors, some business cases, and above all the broad and excellent know-how currently present among Swiss firms in Chile.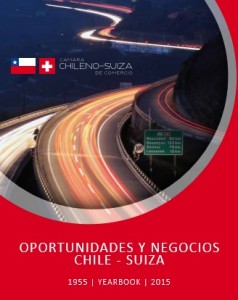 Please find the pdf version here:
Yearbook CCHSC Chile Switzerland
Foreword by the President, Gonzalo Rojas:
The Swiss-Chilean Chamber of Commerce is celebrating 60 years of history. It has been a long journey in which many Swiss companies – some present for decades – and entrepreneurs with ties to both countries have given their best to create high-quality products and services and close to 21,000 jobs, participating in this way in the development of Chile and of bilateral trade. At the same time they have helped to build a solid image of Swissness, as well as the extensive network of collaboration and mutual benefit which the Chamber of Commerce is today. This has been a joint effort together with the Swiss Embassy in Chile, the Chilean Embassy in Switzerland and different governmental organizations including Swiss Global Enterprise.
During these 60 years, the world has experienced radical changes; world history has gone through peaks and crises and has lived through moments of impact which have also affected this far away country.
Indeed, over the past decades, Chile has gone through profound economic, social and political changes, positioning itself as an attractive country for investment and as a dependable and respected commercial partner. Today Chile is acknowledged for its continuous growth, as one of the most stable countries in Latin America with a GDP per capita of nearly USD 24,000 (FMI 2014 PPP-Purchasing Power Parity), integrated into the world by free trade agreements with 61 countries, including Switzerland. The above is complemented with its political stability, its macroeconomic indices, modern financial institutions, an autonomous central bank as well as serious and efficient regulatory institutions.
Meanwhile, Switzerland is leading the development of new technologies and is acknowledged as being one of the most innovative countries in the world. For this reason, many Swiss companies have arrived and continue arriving in Chile to offer their latest technology, contributing their experience with solutions in productivity, improvement in processing, eco-efficiency and a long-term vision in its business and investment. There is still great potential for the future, as we have been able to see through various local business groups.
Chile has developed an export model and simultaneously has opened to international investment.  Although mining is a very important sector (12% of the GDP), the diversification of the economy with dynamic categories should also be noted: construction, industry, forestry, agro-industry (including its well catalogued wine and fruit), transport, energy, financial services, telecommunications, health and education. The internal demand is strong and is constantly expanding and many local companies now have branches in Latin America offering their services and know-how which also open new commercial opportunities to foreign companies wishing to expand in the region.
The role of the Swiss-Chilean Chamber of Commerce is to support its members in the development of their business, both in Chile (and neighbouring countries) and in Switzerland. Its work consists of coordinating an exclusive and reliable network, providing its members with serious and trustworthy information about the Chilean market and helping them to establish links with the local milieu and to meet each other by means of networking activities.
The Chamber of Commerce also organizes the Swiss pavilions in trade fairs and develops meeting and information points such as seminars and congresses. On their arrival in Chile, any Swiss company can be quickly incorporated into the local environment, creating business links with greater facility and their executives can establish close business relationships and mutual support amongst their peers.
This Yearbook aims to be a source of up-to-date information about Chile and the opportunities being offered today in the market, about the Swiss and Chilean-Swiss companies present in Chile who are potential commercial allies for those prospecting the local market. It is also at the service of international bodies and of people who wish to learn about the presence of Swiss companies in the Chilean market.
Finally, this Yearbook has also been devised as an acknowledgement and enormous gratitude to all the people and organizations who have contributed to the success of this Chamber of Commerce throughout its history. We sincerely hope that it will be useful for orientation and motivation and to develop commercial relations between Chile and Switzerland even further.
In the name of the Board of Directors and the Management of the Chamber of Commerce we send you our most cordial greetings.
President: Gonzalo Rojas, Vice-president: Max Spiess
Directors: Miguel Campos, Alain Champion, Pablo Devoto, Carlos Haddad, Marcelo Schumacker
Managing Director: Veronika Fischer, Assistant: Priscilla Brayson